Curriculum newsletters launch our new topics this term!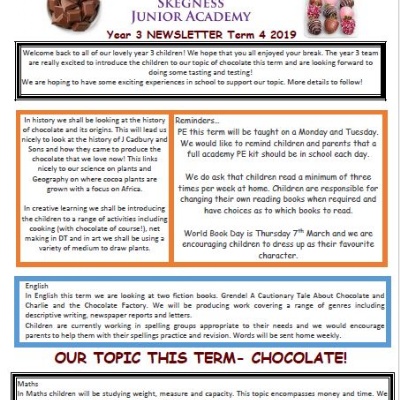 Work has begun on our new topic areas! Each year group wil be focusing on a key topic to bring learning to life!
Year 3's topic is Chocolate and is a joint curriculum project with Skegness Infant Academy. On their learning journey, children will discover the origins of our love of chocolate incorporating aspects of science, geography computing and art along the way!
In Year 4 children will take a trip to Ancient Egypt exploring myths and mummification! A Trip Advisor review of their journey will summarise their experiences!
A Viking visitor kick starts Year 5's topic with exploration of materials and techniques from the time to create long ships.
Finally, Year 6 are plunging into volcanoes and other natural phenomena! Geographical study combined with design technology skills will help the children develop an understanding of the impact on humans!
An exciting term awaits!